Localization
Land-gut-Hotel zur Post ***S
Brückenstraße 2,
53505 Altenahr
Stuttgart
3h 11 min / 335 km
Frankfurt
1h 53 min / 186 km
Munich
5h 17 min / 547 km
Berlin
5h 44 min / 625 km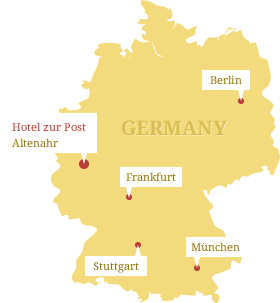 Kontakt/Anfahrt
Nachrichten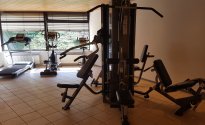 Für unsere Hotelgäste bieten wir seit Mai 2018 ein neues Highlight:
12.05.2018
Details
Welcome to the Land-gut-Hotel Zur Post
We invite you to spend unforgettable hours directly at the river Ahr. It flows past our restaurant "Ahrblick" and our sunny terrace and meanders beautiful through the narrow "Valley of the red Grape", surrounded by densely wooded hills, jagged cliffs and steep vineyards. Altenahr is an internationally known wine and spa resort with a 1000-year history.
Being a guest at the Hotel and Restaurant "Zur Post" means experiencing the warm atmosphere and honest hospitality provided by family Lang. Enjoy our well praised cuisine serving specialties of the Eifel and international delights. Relax in our indoor swimming-pool, enjoy a soothing massage or other spa treatments.